All this discussion of Congressional decorum will seem quaint to people in…just about anywhere else.  Forget the harsh questioning the British PM is subjected to–parliamentarians around the world routinely behave  like Jerry Springer guests. In 1972, an MP punched the Home Secretary during a debate over Bloody Sunday.  To find such a ruckus in Congress, you'd have to go back to 1856

or 1798.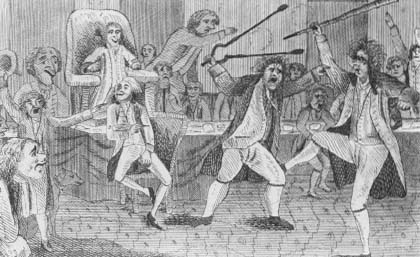 Parliamentary donnybrooks are all too common today, in such varied locales as Iraq, Turkey, and Germany. Â Which assemblies, it seems, do not have a C-SPAN equivalent. Â Thanks to legislative panopticons elsewhere, we now present a video gallery of the vigorous exercise of democracy.

Japan

Czech Republic

Bolivia

Russia

Mexico

Taiwan

India (Uttar Pradesh)

Ukraine

Jordan

Nigeria

Sudan

And the award for Greatest Zeal in a Procedural Debate goes to… South Korea!