This piece  claims that the modern Republican Party does not believe in science.   Riley Dunlap  has conducted the best work that I know of on documenting long run trends in views on climate change as a function of political affiliation.   Below, I report the type of graph he creates and analyzes.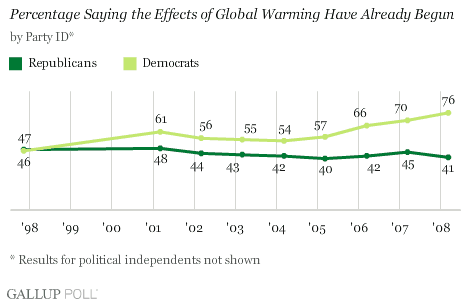 This Gallup Poll shows a divergence between the left and the right. Note that the political right's decline in "belief" hasn't sharply fallen over 10 years while liberal belief has sharply increased. 
So, what is going on here?    I can only speculate but here is my conjecture.   A Glenn Beck knows who he is and who he opposes.  When an "Al Gore" embraces an issue (such as climate change) and indicts the "Hummer Suburban" crowd for causing the problem, there is bound to be backlash.    An unintended consequence of liberals embracing carbon mitigation and turning it into a moral issue is that there has been active defiance among Republicans.   
This issue is compounded by the fact that Republicans tend to live in suburban low density and are aware that their lifestyle will be differentially impacted by carbon pricing.   In contrast, liberals have self selected to live in places (Manhattan and San Francisco) where they can have a small carbon footprint and won't face the same transition carbon bill if carbon pricing is enacted.
So, how do we get to "yes"?   Must liberals have to hope for a natural disaster that is nasty enough so that Republicans are jolted into being willing to take costly preemptive carbon mitigation action?   Must liberals find a technological fix that lowers the cost to Nascar Dads to embrace the low carbon agenda?  What are other pathways towards building a majority coalition?   How many moderate Republicans are there and what swings people back to the middle?