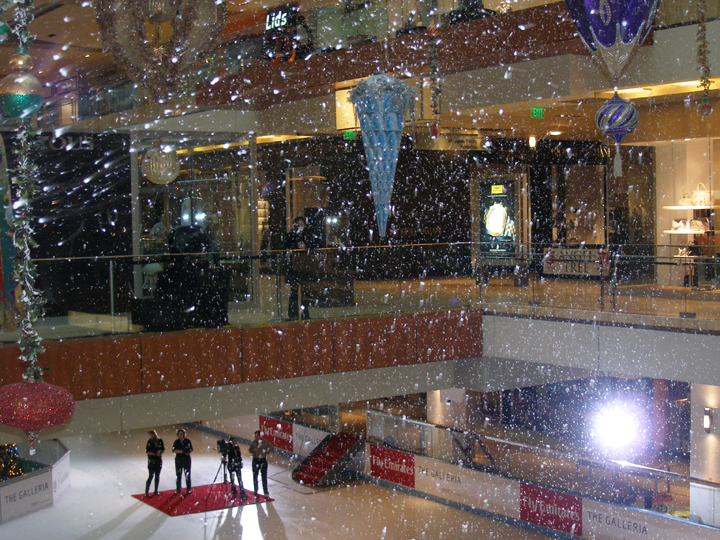 As I waited for my train to London in one of those cavernous railroad stations up North, flakes of snow started to fall around me. My first thought was "Huh – it's snowing", followed seconds later with a shocking realization: "I'm indoors…and it's snowing!!!".
I looked up into the gloomy reaches of the arched ceiling high above me and concluded there must a hole in the roof through which an outdoor snowstorm was casting some flakes. I walked outside to check. It was certainly a cold November day, but the sky was clear and there was not even a skiff on the ground. Yet when I walked back inside, it was still very lightly snowing by the tracks where I had been standing.
Later that evening, in a downstairs bar off Pall Mall, I related my strange tale to my companions, who began forming theories. Because this particular watering hole is popular with spooks — who enjoy eavesdropping and puzzle solving in equal measure — pretty soon the whole place was engaged in a lively debate regarding how my impossible data could indeed be possible. It was fun discussion and without rancor.
Contrast that with different impossible data: Your doctor brings back your "routine tests" and says that even though you feel fine, you are gravely ill. Something in you shouts NO and you understandably come up with every possible reason why the impossible data just can't be correct.
Those two cases of "impossible data" are at the extremes where the data are either entirely fun and non-threatening to learn from vs. terrifying to the core. Most impossible data is between those poles, and I wonder as a teacher and as a citizen whether we can instill in people a stronger habit of seeing impossible data like indoor snow instead of proof of terminal illness.
How do we get a gun rights advocate to do something other than scream "fake news!" when a study shows that gun owners are more likely to be shot? How do we get a firm atheist to appreciate evidence that highly religious people are happier and healthier? What is the magic that makes impossible data an exciting chance to learn more about the world rather than something to shut out at all costs?