That's the final roll-call on health-care reform.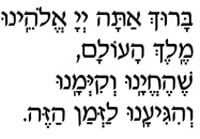 Blessed are You, HaShem our God,
Ruler of the Universe,
who has granted us life,
sustained us,
and brought us forth to this season.
Note: Â The "shehechayanu" is the blessing used either to mark the return of an annual event or to recognize something altogether new.